The best pizza is made with a forno a legna, a wood burning oven. Unfortunately, I don't own a wood burning oven in my flat :-) I don't even think it is legal in the Netherlands. Else, you would have wood burning ovens in Italian pizzerie, right? Anyway, the best pizza you can possibly get outside of Italy is the one you prepare yourself.
You'll have to prepare the dough yourself and to bake it at home. Of course this is cumbersome, and that's where technology comes handy: I had friends for dinner last Saturday, and we used my bread-making machine to prepare the dough. Then we stopped it before it started baking, took it out, added some flour and prepared the pizza base. The result was quite interesting…
Since there was some dough leftover, I put it in the refrigerator, and prepared another pizza for lunch the next day. Here it is: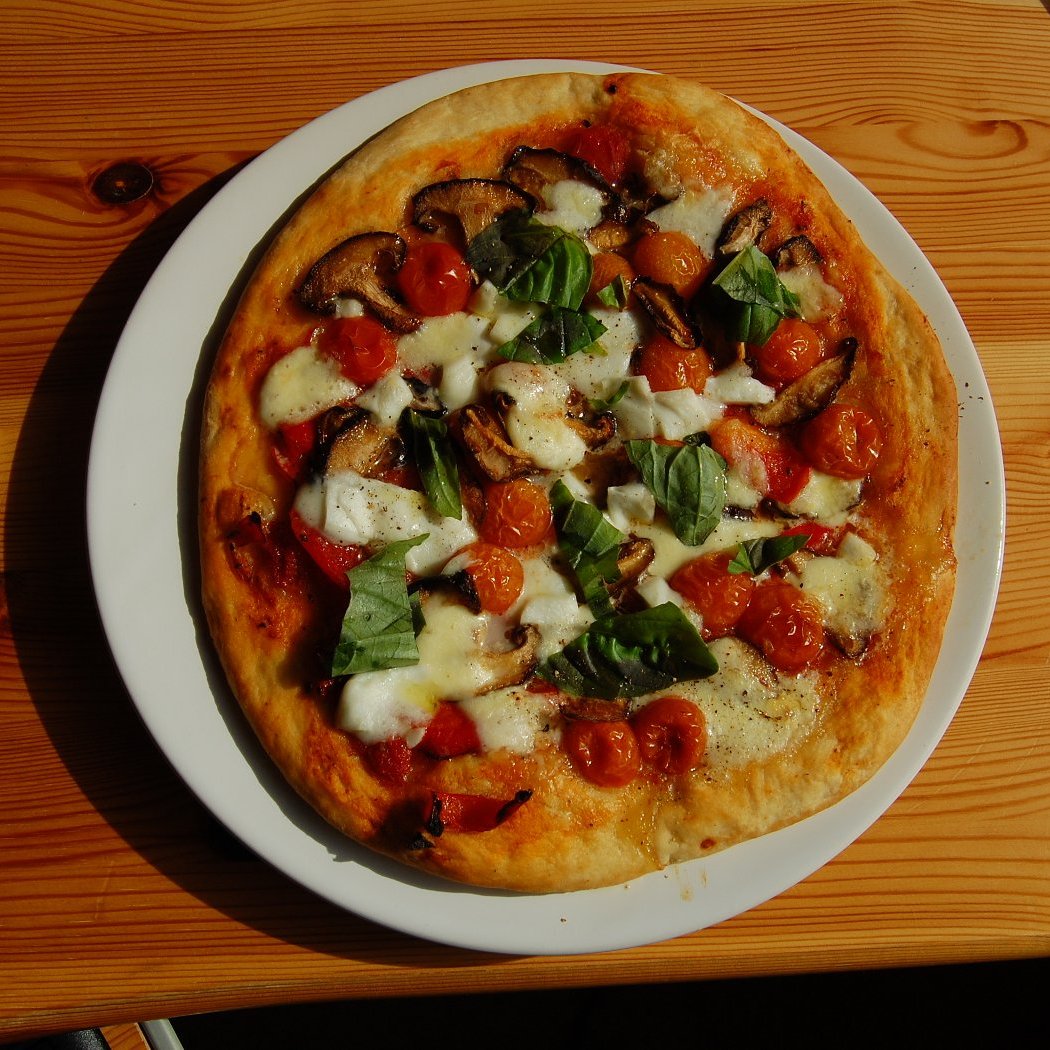 Wow…
For those of you who like to experiment, here are the ingredients (the dough is for around 5 pizze):
Dough
500 g wheat flour
350 ml lukewarm water (filtered)
7 g dry yeast
15 g sugar
10 g salt
10 g extra-virgin olive oil
Topping
Tomato sauce (diced tomatoes, oregano, salt, pepper, olive oil, garlic)
Pachino tomatoes
Shiitake mushrooms
Red paprika
Mozzarella di bufala
Fresh basil leaves
Extra-virgin olive oil
Salt
Freshly ground black pepper
I went for 15-20 minutes at 200 °C in a convection (forced-air) oven. Conventional electrical ovens should be set around 220 °C. Add the mozzarella 5 minutes before it's ready. Basil, pepper and olive oil at the end.
I'd like to hear your comments about this one…